What is POLYGON?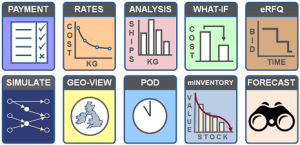 POLYGON is an online service used by managers within Logistics, Freight, Procurement and Finance operations to gain control of, and reduce Freight costs. It is particularly useful where large volumes of smaller, high-value or high-priority shipments are involved, for example in the High-Tech, Components, Automotive, Medical Equipment and E-Commerce sectors. POLYGON leverages detailed shipment data to help achieve optimum cost and service levels for your freight operation… fast.
POLYGON saves costs
If you apply the Polygon service you save as much as 10 to 30 % of your freight cost (cost per delivered kg), or 20 to 35 % of your stock costs. That means: millions of Euros, Dollars or Pounds. As a web-based service Polygon offers easy access to your data and saves  considerable  costs that might arise by developing your own software or employing specialists for support.
As a purpose-built powerful freight analysis application, Polygon collects and standardises all your freight data and contracted tariffs for easy comparison; includes all the views and graphics needed to manage freight; and keeps it all in one place for easy access by everyone across the enterprise who needs the information to be able to do their jobs professionally: people like the Export Department, Purchasing, Accounts Payable and Supply Chain Management.
Polygon easily gives you a 'Single version of the Truth' to help you deliver on your freight strategy – a clear, detailed and completely consistent view into the operation and performance of your freight network.
Due to the SaaS-System Polygon offers minimum start-up costs as well as short implementation time. Of course we will also assist you with MS-Access or MS-Excel in consulting projects.